Your job can be rewarding, interesting and challenging but may also be injurious to your health. Gone are the days when work meant manual labor and toiling, giving you the opportunity to flex your muscle, sweat and generally exercise your body while performing your duties.
These days, an average adult spent about 9 to 10 hours sitting in a desk as workplaces and offices are designed to limit movements while looking more comfortable.
The hours spent sitting down commute to work plus those spent sitting down for long hours at the office and at night watching the TV are definitely a recipe for destruction.
The long sedentary state can affect your health and shorten your life hence the need to incorporate workout exercises into your workdays.
Why Should You Exercise At The Office?
Bad Effects Of Desk Job To Your Health
Spending long hours on your desk job, gluing your bums on a seat increases your risk of building up excess fats, while also increasing your chances of having back pains, leg cramps, strains on the eyes, wrist, neck and shoulders, tense muscles and poor posture.
Your body is designed to be active at all times, staying too long in a sedentary state is like asking your body to shut down and prepare for death.
Another downside of office work is stress and boredom. With nothing to spark up the day, office workers get stressed and bored doing the same thing over time in a sedentary position. This can further result in depression, cardiovascular diseases (heart diseases, cancer, diabetes and organ damages), reduced vigor, and other health related issues.
Studies have shown that proper workout exercises at the right proportion can help you combat or prevent these adverse effects.
Benefits Of Exercising At Work
Exercises are important as they improve concentration, aid productivity and prevent damages and the dawdling function of the brain caused by sitting too long.
It also helps to burn calories, improves digestion and keeps you active while performing your duties.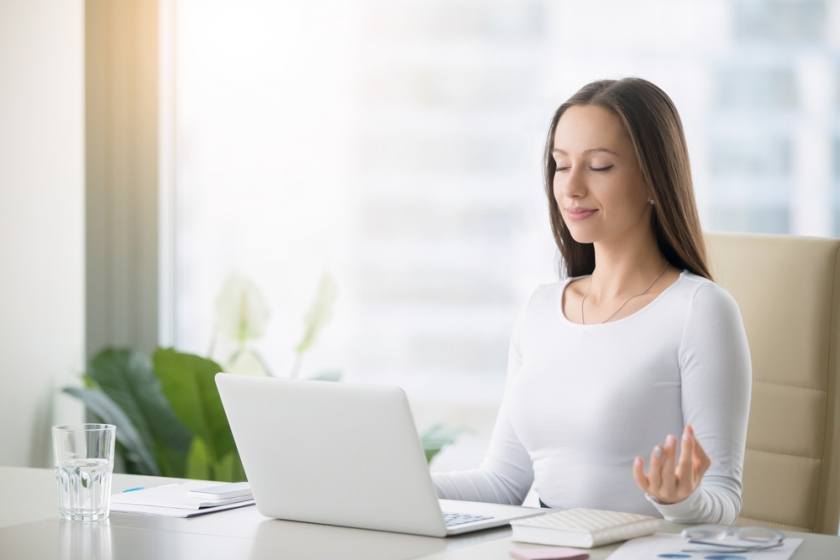 But how will you be able to find the time? Office workout can help you make judicious use of your limited time and learn to workout while you work.
So why wait till your work turns your health and appearance into a piece of shit? Are you going to make excuses for skipping exercises just because you are stuck at work? Simple but effective workout exercises can be done while you work and here are some you can do secretly.
A workout is a period of physical exercises which are carried out in order to improve fitness, ability, and performance. This article guilds you through easy workout exercises which can be adopted as you carry out your routine official duties.
Try easy office exercises below to make your desk job less sedentary!
Eye Exercises
Staring all day at the computer screen makes the eyes tired tensed and strained. Strained eyes lower your productivity and may also lead to work errors, headaches, and glaucoma.
The eyes are muscle too and must be exercised to keep them in a good working condition while carrying out your official duties. Do not allow your eyes to get weak and overly stressed from much office work, take control of your eye's health by adopting simple eye exercises.
Here are few simple exercises which will relax and revitalize your eyes.
1 - Palming Eyes
This exercise should be carried out in a relaxed position whenever your eyes start feeling tensed and strained.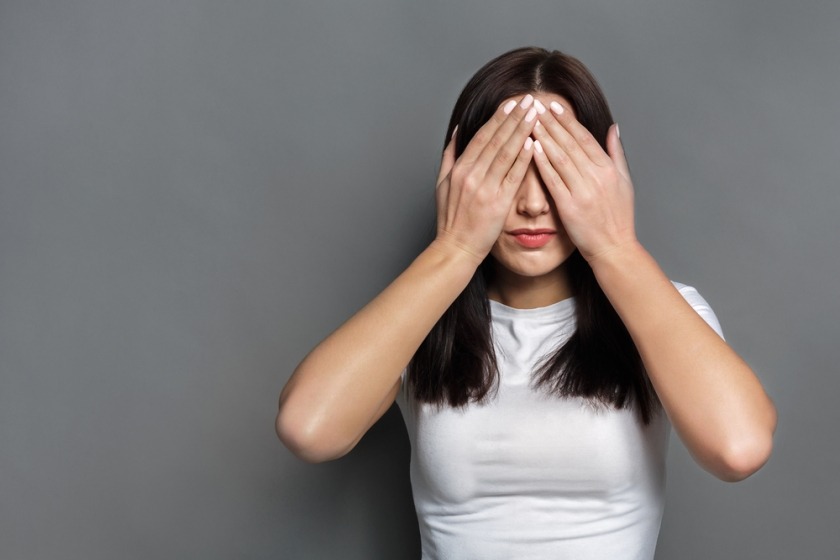 Rub the palms of your hand together so as to create a little amount of heat.
Place your hands over your closed eyes, allow your palms to warm your eyes as you remain in this relaxed position for a few minutes.
Do not press your hands against your eyes, hold gently, and allow your eyes to remain passive while getting refreshed by the warmth transmitted through your palms.
While still covered by your palms, open your eyes and allow them to see softly in the darkness created by your palms, then move your hands or fingers slowly away.
2 - Rollings Of The Eyes
Rolling your eyes can greatly relax the eyes, especially when you have been staring at your computer screen for hours. Take a minute to carry out this simple exercise while working.
Sit back and close your eyes, roll them in a circular motion as they remain closed, and keep rolling for a few minute, simple, isn't it?
This exercise keeps the eyes lubricated and reduces the strain on the eye muscles.
3 - Glancing
Keep your eyes closed, glance up and hold for a few seconds then look down. Repeat this for a few minutes then open your eyes and look around. Close your eyes again like before, look to the right and then to the left. Repeat this steps several times.
Neck And Shoulder Exercises
An enormous amount of pressure is exacted on the neck and the upper back by the head as you maintain your sedentary position while working in your office. This can lead to neck pain, stiff neck and headaches.
However, simple stretching exercises can bring you a soothing relief and help you concentrate as you perform your duties. Studies have shown that exercising the neck 6 to 10 times a day can prevent the occurrence of neck pain and stiff neck and also help in maintaining a good posture.
The following are simple neck exercises and movements that can be adopted as you carry on your duties.
1 - Neck Retraction
While sitting, bring your head straight back, ensure your eyes are kept on the horizon. Then return back to the normal position. Repeat this exercise 10 times.
2 - Head Drop
While still in the seated position, move your head up slowly and backward as far as you comfortably can, then return back to normal. Do this again 10 times.
3 - Side Bend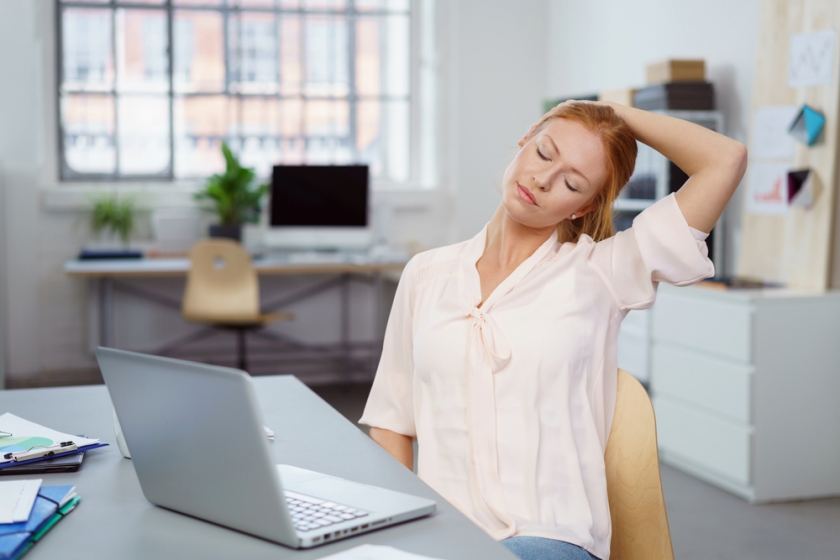 Retract your neck while sitting, and then place your hand on your head. With your hand, pull your head gently so that your right ear moves towards your right shoulder.
Be careful with this as the neck is easy to injure, stop once stretch is felt on the other side of your neck then return to neutral. Repeat this for the left side and then 5 times each for both sides.
4 - Rotation
Starting in a seated position, return your head into neck-retraction position, and then turn your head slowly to the right so that your nose is over your right shoulder. Return to normal position and repeat again 5 times for both right and left direction.
5 - Neck Flexion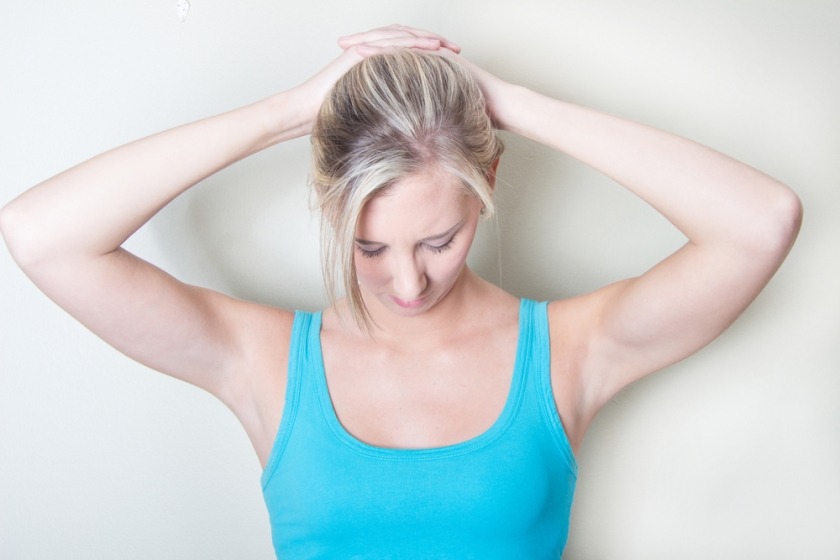 Clasp your hand behind your head while sitting, and gently pull your head down, moving your chin towards your chest region.
Halt when you feel stretched at the back of your neck and return to normal position.
Repeat this steps 5 times.
6 - Shoulder Shrug
Raise your shoulders up towards your ears and stay in that position for 5 seconds. Return back to the normal position and repeat this for about 15 times.
Exercises For Arms, Hands, And Wrists
Most desk workers spend hours working all day on the computer, the repetitive nature of their job can strain their arms and cause wrist issues. It is, therefore, necessary to prevent arm injuries and wrist issues which would make it painful for you to handle your mouse and keyboard at work.
These simple exercises will help you prevent and manage hands, arms and wrists issues that can make you less productive or slow down your work.
1 - Finger Exercise

Make a fist and ensure your thumb is straight (not tucked under the rest fingers)
Slide your fingers up with the tip of your fingers moving towards the base of the fingers and continue until you feel stretched
Wait for 10 seconds and then repeat this steps 5 times.
2 - Wrist Stretch Exercise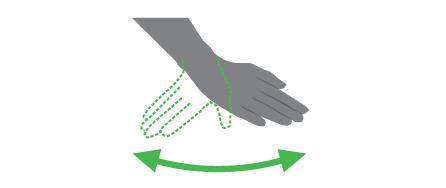 With your hand open and facing down, move your hand to each extreme from side to side and hold for 10 seconds each. Continue till your hand is stretched and repeat the exercise 5 times.
3 - Wrist Bend Exercise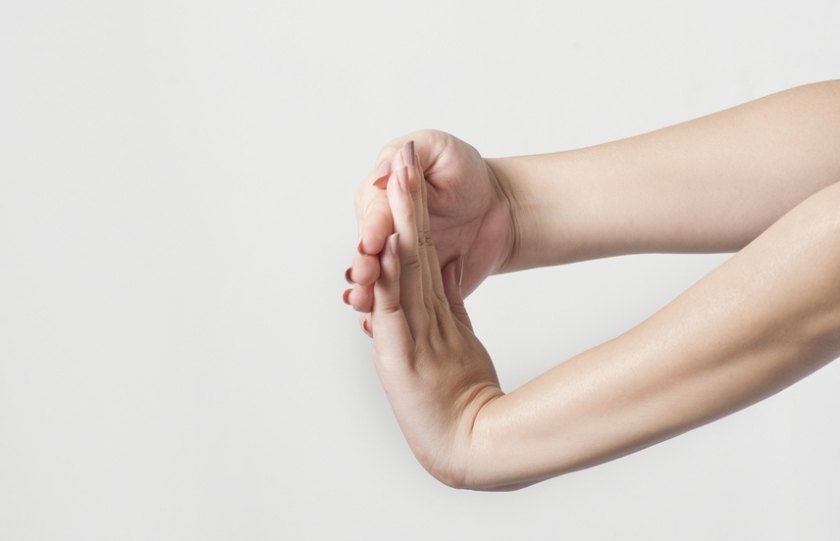 Hold the upper part of your right hand with the left
Bend your right wrist with the left gently, upward and then downwards
Hold each for 5 seconds.
Repeat the same step for the left hand and continue till your hand is stretched. Repeat this exercise 5 times each for both hands.
4 - Forearm Exercise
While sitting, move your elbows out and your palms together. Rotate your palms down gently and hold for 5 seconds. Continue the exercise until a stretch is felt. Repeat the process 5 times.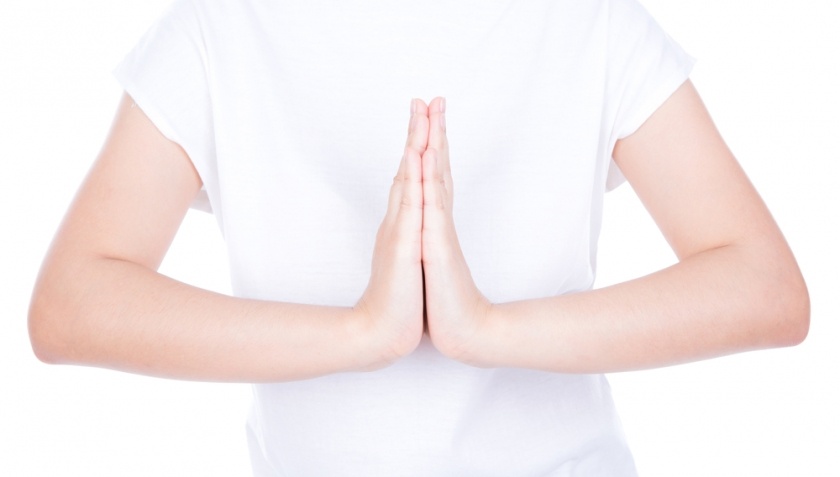 Back Exercises
Workout exercises for the back help to correct the negative effect of desk job on your back, reduce back pain, improve posture, and help you maintain a good spine health while you remain productive at work.
Here are few back exercises which can be incorporated into your office work.
1 - Spinal Rotation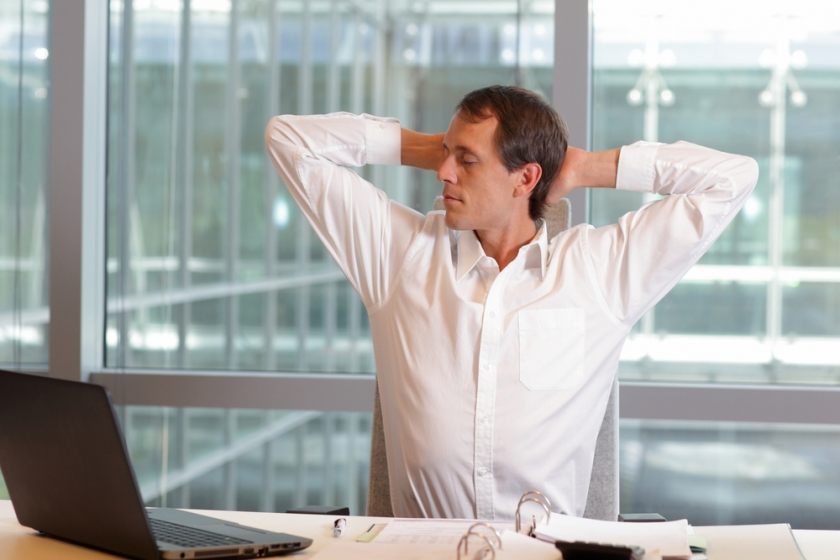 Sit up straight, bend your elbows and raise your arms to the shoulder level. Keep your focus on the horizon to maintain the curve in your neck
Then, pick a spot behind you and twist your torso and neck gently to look at it
Rotate slowly to stretch your muscles, and gradually increase your speed as the discs start getting lubricated, then, increase the range of your motion
Rotate back and forth for at least 5 half-rotations
You can perform another 5 half-rotations if your spine is not warmed after the first rotation. This exercise does not only reduce your back strain but also help reduce pain in the neck.
2 - Lumbar Extension
This exercise helps to stretch the low back region.
While seated, place your hands on your knees
Arch the low back while raising your head up and push your knees with your palms in order to intensify the curve in your low back
Ensure to keep back your shoulders and stay in this position for 5 seconds.
This workout exercise should be carried out 10 times, twice a day or whenever you are working on a computer or sitting at a desk for a long time period.
Leg Exercises
1 - Desk Squat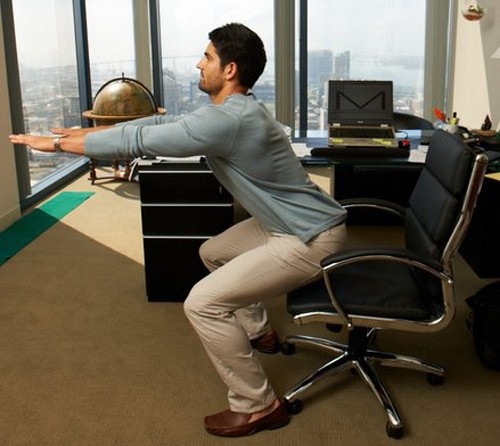 Image source
Move your seat a little away from your desk, and sit at the edge of your chair with your thighs parallel to the ground and your hands over your desk. Make sure you wedge your chair against the wall or your desk if it has wheels
Slowly push your feet into the ground to lift your butt off the chair as you lean over the desk with your upper body
Hold this position for 15 seconds or for as long as you can while keeping your knees together.
You can return your butt to your seat or back to a normal standing position. Repeat this for at least 6 times.
This exercise helps to improve the working condition by reducing stress. It also helps to improve proper circulation of blood to the legs while reducing pain and the tingling sensation caused by sitting too long.
2 - Lunch Break Hammy
This standing leg exercise does not only improve legs condition at work but also strengthens the hamstrings.
Stand at the back of your chair and lean on it for support.
Gently move your right foot back (your heel moving to the top of your thigh).
Release the foot and return it back to the ground.
Repeat this exercise with your left leg.
Do 5 repetitions for each leg, take a little amount of your lunchtime sandwich, and then repeat the exercise 5 times more.
3 - Using A Desk Exercise Bike
With your busy schedules at work, it may be difficult to find enough time for necessary exercises. A desk exercise bike allows you to get effective workout exercises while working at your desk.
It ensures a smooth noiseless operation and healthy joints motion that will neither disturb your coworkers nor distract you from work.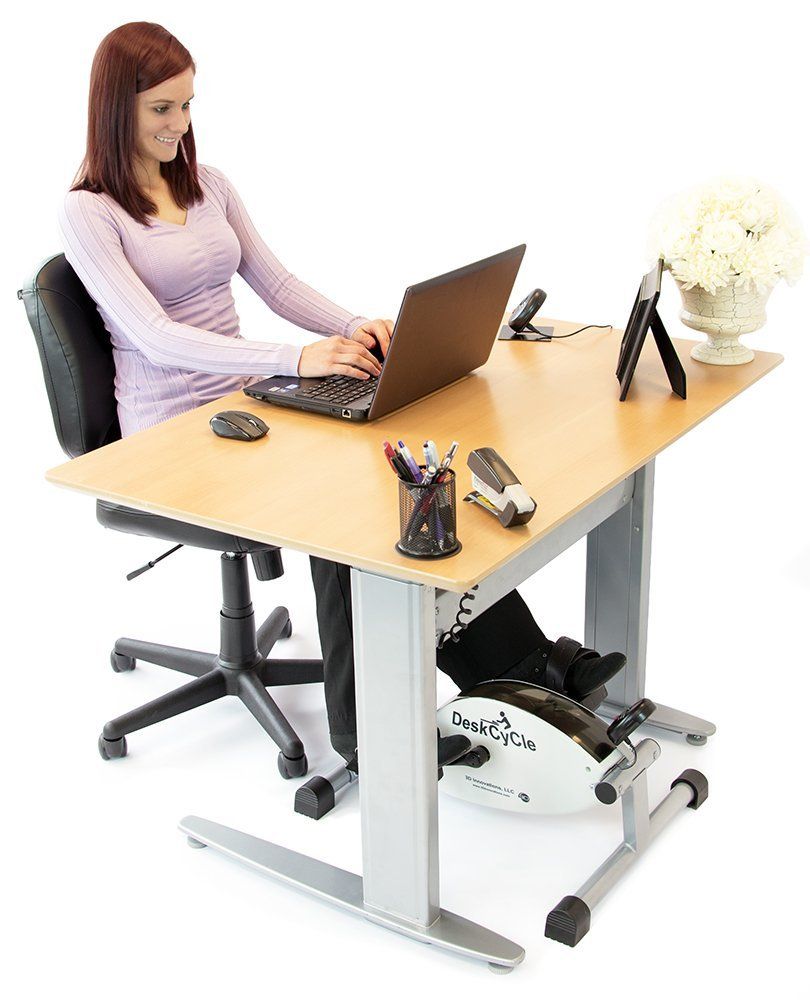 Pedaling a desk exercise bike like the Desk Cycle on its lowest resistance level does not feel like performing an exercise but will increase the amount of the energy you spent by 50% more compared to when you just remain seated for many hours at your desk.
Desk bikes help to burn calories and improve energy levels while reducing stress. They also increase productivity by improving focus and reducing worries and nervousness.
Desk bikes such as the Desk Cycle come with different resistance levels, online calories calculator and can be used throughout the day as you carry out your work at your desk.
Office Exercises For Your Whole Body
1 - Take The Stairs
Avoid the elevator and make use of the stairs, this does not only help you burn calories, manage stress and reduce the fatigue caused by the workload but also works the whole body, increase your heart rate and overall improvement in blood circulation.
2 - Stretching Exercises
You've been working all day, why not take a little break and perform a few stretch exercises?
Stretching help maintain good posture, get rid of body pain and reduce fatigue and boredom making you active at work. Some stretch exercises are discussed below.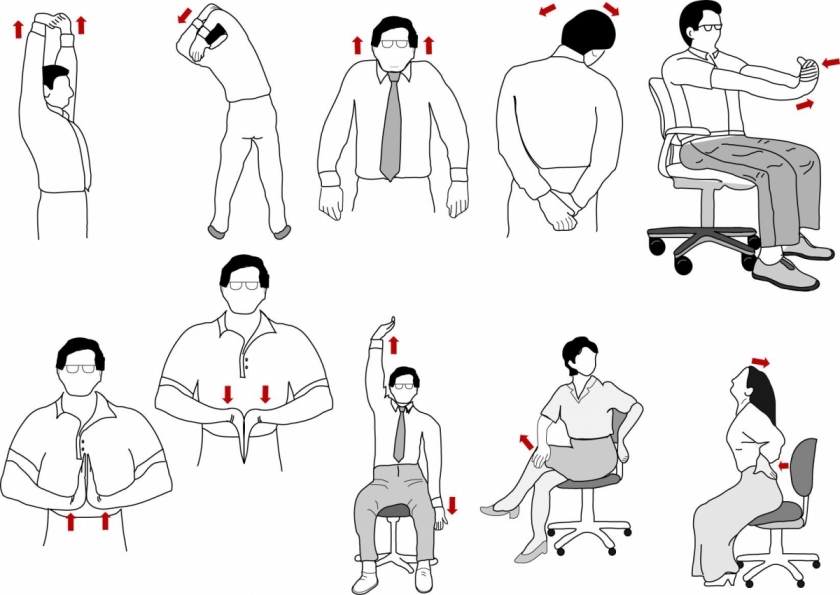 Stand up and sit down over and over again without using your hands.
While sitting straight of standing up, stretch your arms over your head and lock your fingers together. Turn your palms up to the ceiling while lifting your chin up, tilt your head to the back as you look up. Breathe in and out then return to neutral position. Repeat 10 times.
Stand on your feet and spread your legs a little, clasp your arms and place behind your head. Remain in that position while moving your upper body to the right till you feel a stretch, hold for a moment and then release. Repeat by moving to the left, and 5 times each for both sides.
Watch below video to know how to perform simple office stretches and workout exercises.
Final Words
Sitting at your desk for hours with no exercise is like sitting on a keg of gun powders. Your sedentary sitting position at work can physically wear you down. You want to remain active, productive and healthy as you perform your office duties? Why not make it a habit, performing exercises even at work to prevent the negative effects your desk job offers.
Never allow your tight schedules deprive your body of the necessary exercises. Do not allow your office duty and sedentary life to make you pay for its serious health consequences, take charge of your life and perform these simple office workout exercises now.