Bad things can come anytime, even when you're riding a bike outdoors. Getting caught in a thunderstorm while cycling isn't a rare case to cycleholic but it is surely frightening and life-threatening.
In that case, what will you do to save yourself?
If you haven't thought about that yet, here is all what to do if you get caught in a thunderstorm while cycling.
What You Should Do If Getting Caught In A Thunderstorm While Cycling?
Look For Shelter
Once noticing that you're going to get caught in a thunderstorm, find shelter right away.
Safe types of shelter
You should stand under/near a group of shrubs of uniform height.
Getting in a car or any enclosed vehicles with hard tops if possible.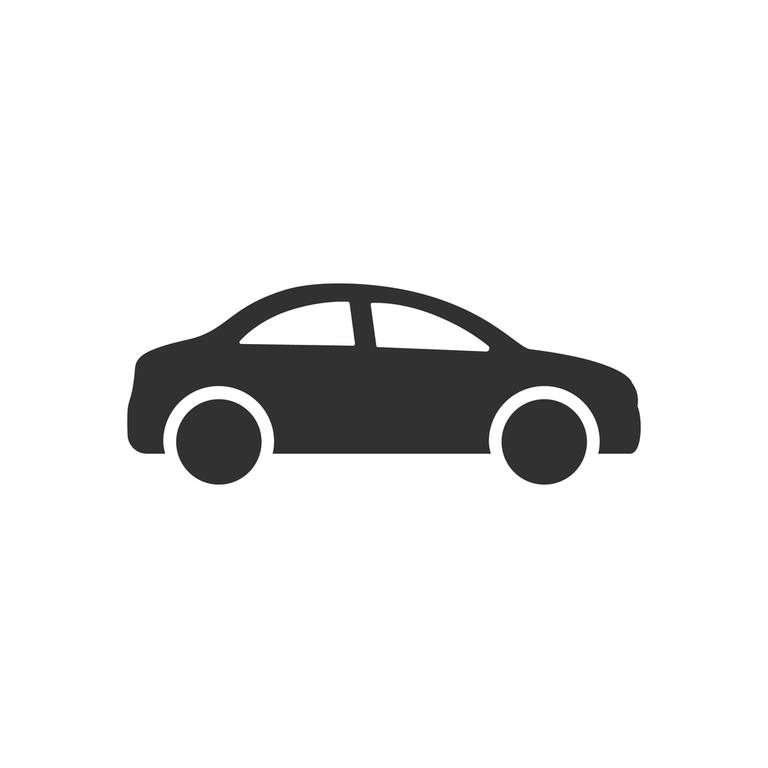 Remember to roll up all the windows and avoid touching metal objects/surfaces both inside and outside the car.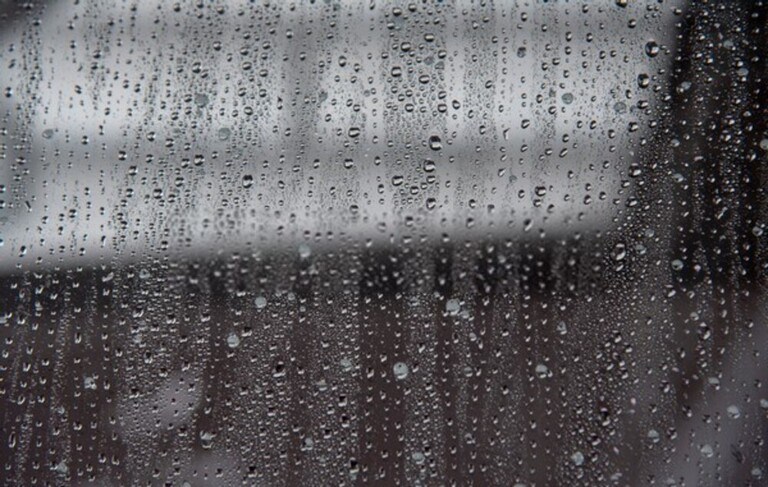 The reason making a car or any enclosed vehicle with hard tops a safe shelter during a thunderstorm is that you're surrounded by metal, not because of the car tires.
The electric conducting capabilities of metal are better than you, so when you're surrounded by metal, the voltage will go through the metal, not you.
Finding shelter in a building, big bridges, or any other enclosed metal structure is the safest place to hide during a thunderstorm.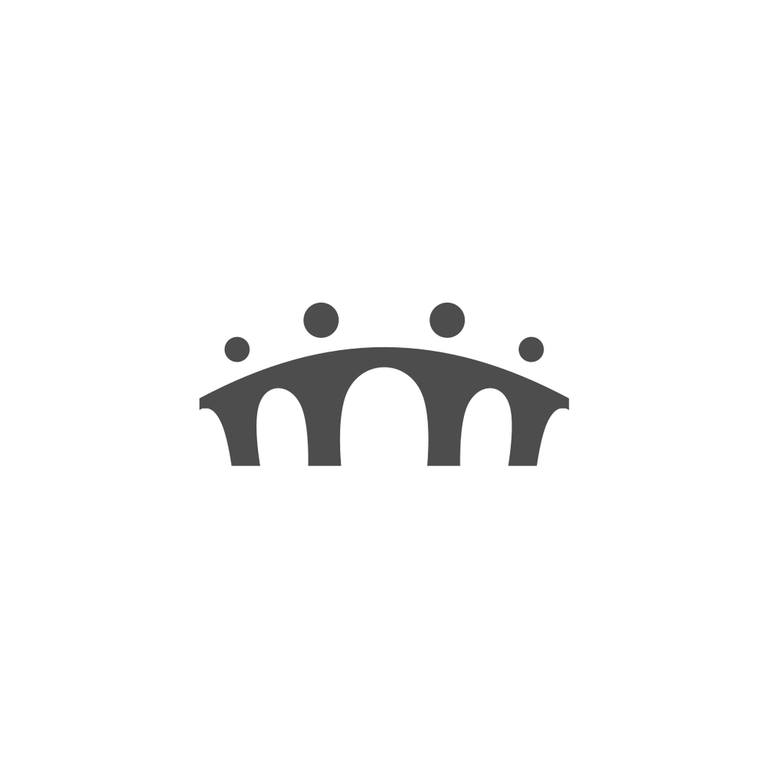 If you can't find any place like that, a trench or dig with no trees around within 2-meter diameter is a good alternative.
Unsafe types of shelter
Avoid seeking shelter under single trees because the higher the points, the more risks the lightning will strike.
Lightning is a result of electrical charges. If unluckily the tip of the tree that you stand under is struck, the current from the lightning will travel down the tree and move onto you.
Don't stand or hide close to boundary areas between dissimilar terrain (fields and trees, earth and rock, land and water).
Here are the shelter types you should avoid standing under during a thunderstorm: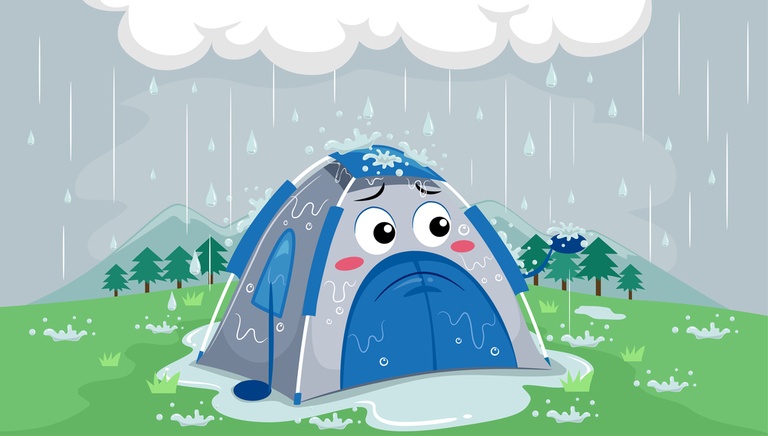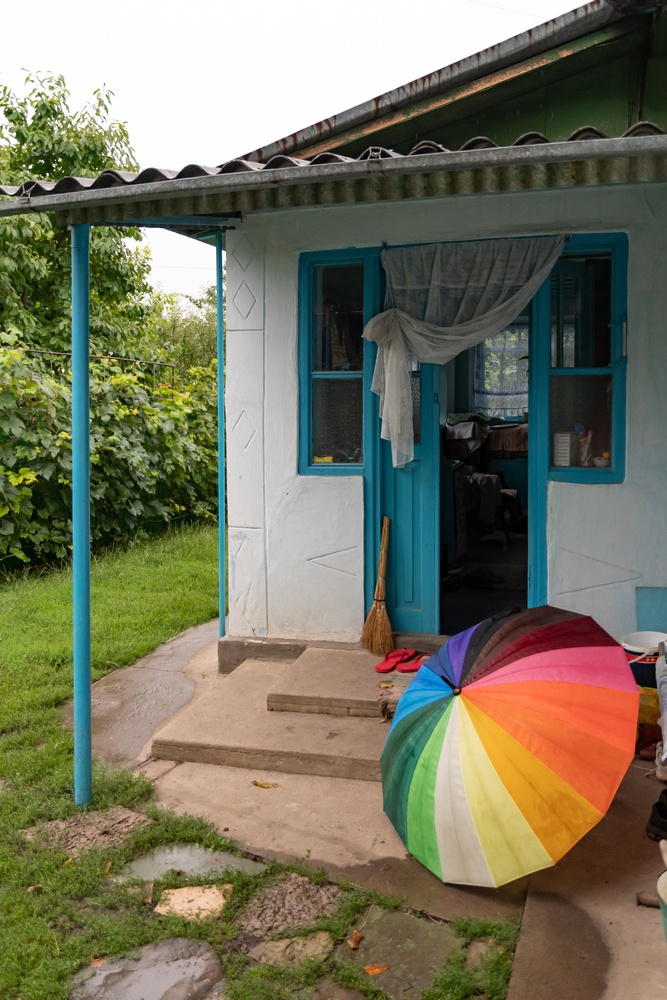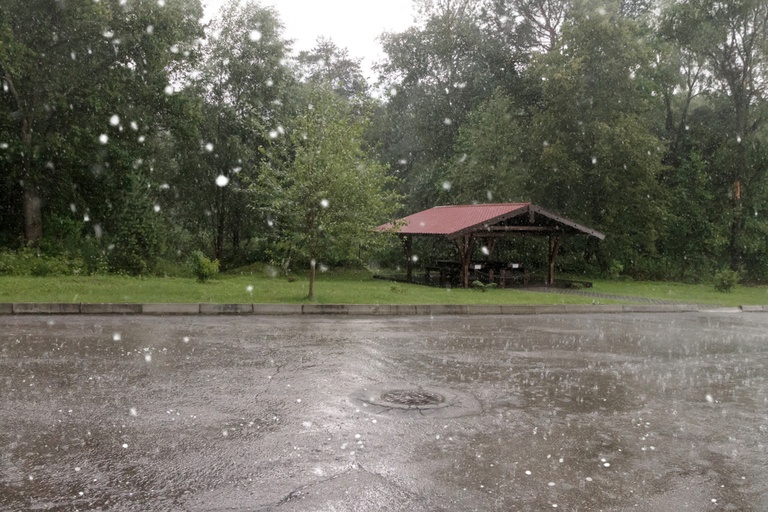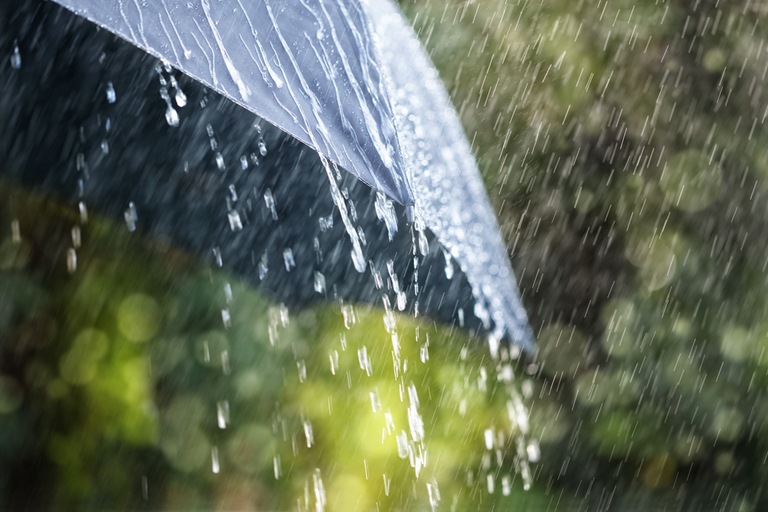 Remove Metal Objects From Your Body
Although metal objects don't attract lightning, they are good at conducting electricity – which might cause burns or electric shocks.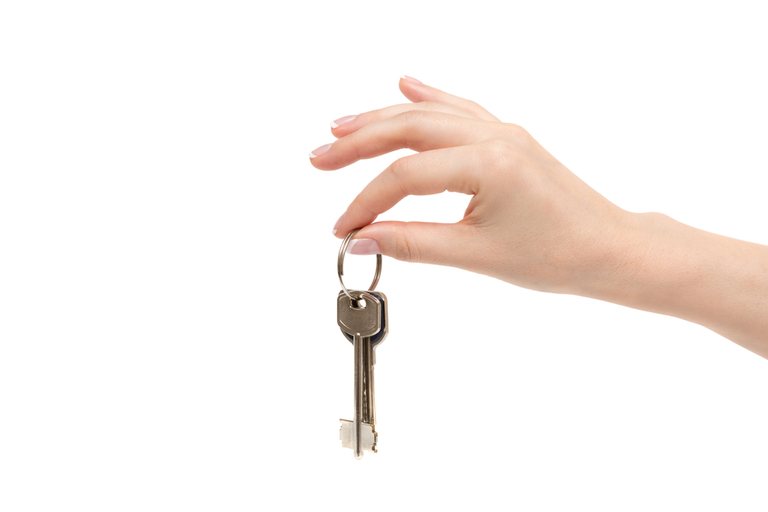 Therefore, it is important to remove all the metal objects from your body, such as smartphones, keys, wristwatches, hairpins, jewelry, etc.
Step Away From Your Bike
There are a lot of metal objects on a bicycle, therefore, you should stay away from your bike during a thunderstorm.
It's a common myth that bike tires isolate you from the ground, so it would be okay if you keep cycling. No!
In fact, the bolt in nature can travel thousands of feet through the toughest isolator, let alone just a few inches of rubber of a bike tire.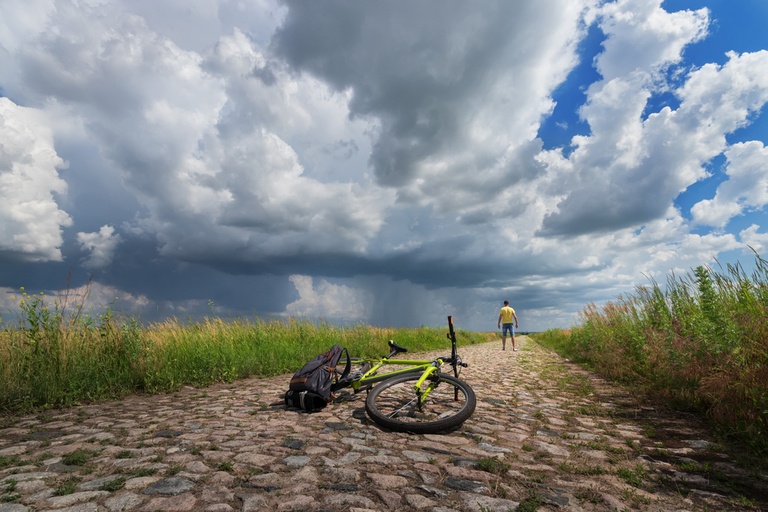 And suppose that theory was true, riding a bike through a thunderstorm means you and the entire bike will get wet because of heavy rain, and water is a good electricity conducting substance.
Get The Right Posture
The way you stand or sit partly affects your safety during a thunderstorm.
Remember that soil is also an electricity conducting substance, therefore, instead of laying down on the ground, you should crouch down with your legs kept as close together as possible.
Wait At Least 30 Minutes After The Last Time Hearing Thunder Or Seeing The Lightning
Even if the rain has stopped or slowed, you should not go outside immediately because chances are that lightning still strikes after that.
To ensure your safety, be patient and wait at least 30 minutes since the last time you hear thunder or see the lighting.
Distance Yourself From Other Cyclist Members In Your Group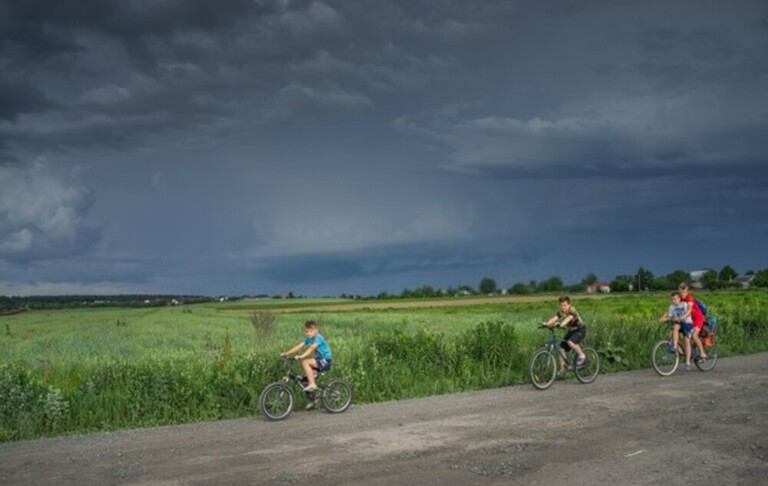 If you go as a group of cyclists, keep your distance with other members – at least 30 meters away - if you all get caught in a thunderstorm so that if one member is unluckily struck, the others can apply first aid immediately.
How To Prevent Getting Caught In A Thunderstorm While Cycling
To avoid further life-threatening risks of getting caught in a thunderstorm while cycling, here are the must-dos to know:
Listen to NOAA weather radio to constantly update the latest weather conditions to get the right plan ahead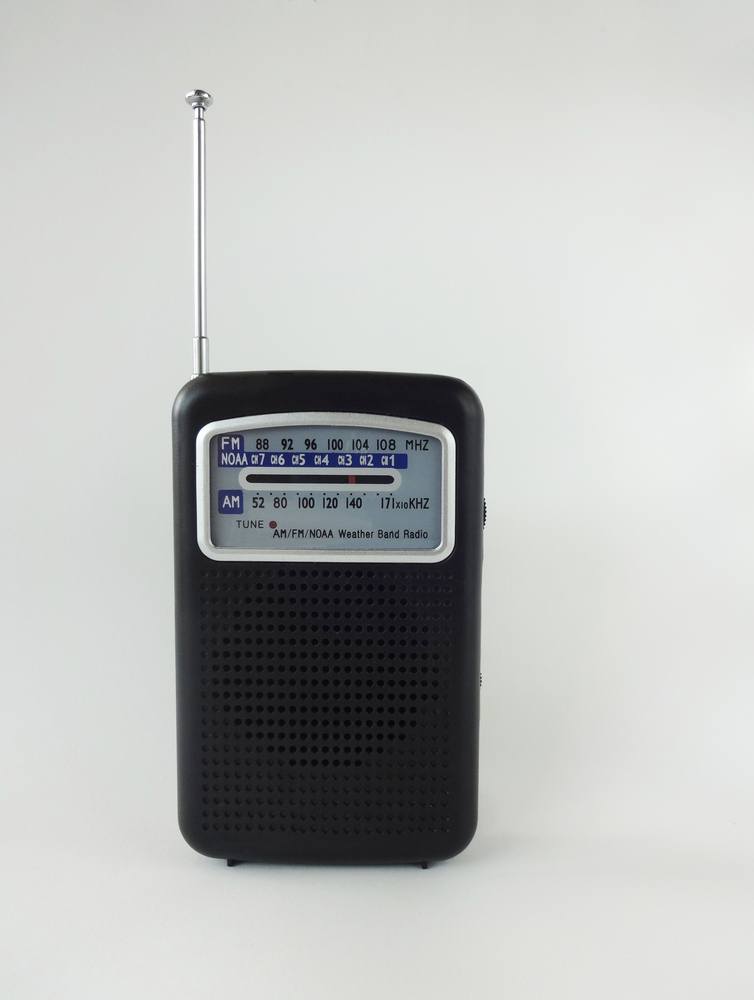 Check the weather forecast before any cycling trip and make sure to have a plan B already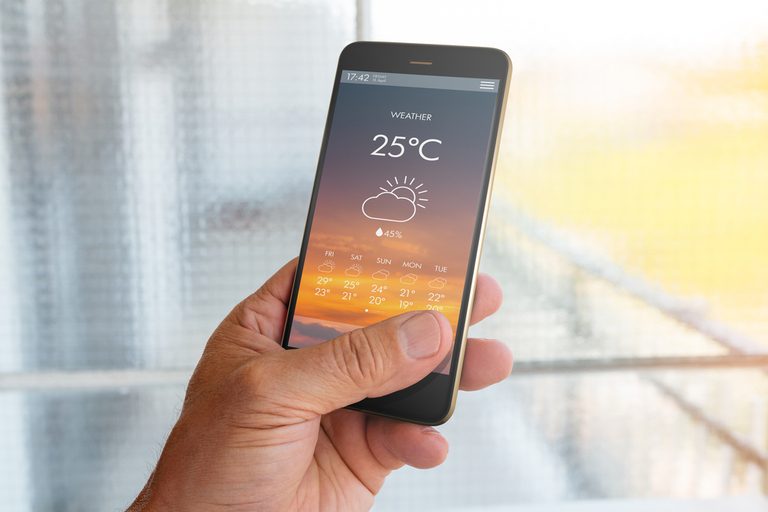 Know your cycling route to make sure you won't go to the area that is predicted to have thunderstorms. Or, if a thunderstorm suddenly appears, you will know where the closest safe shelter is and how long it'll take to get there.

Signs Of A Thunderstorm
Be mindful of the unusual signs around you will help you prepare or make the right strategy to stay safe during a thunderstorm:
Large, puffy cumulonimbus clouds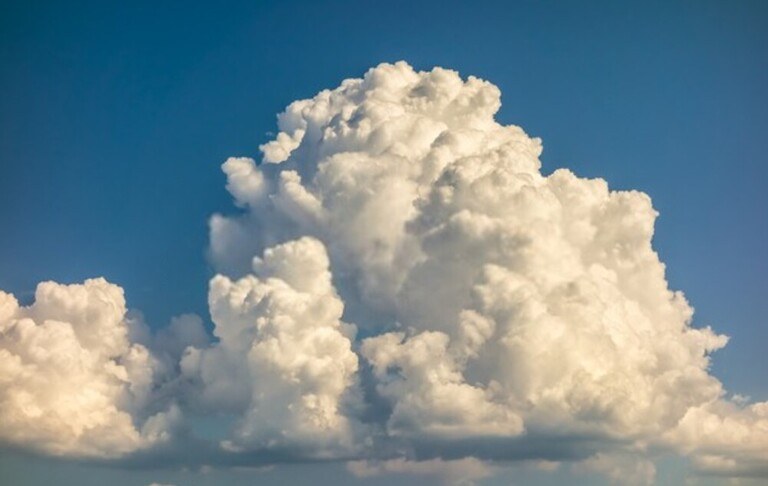 Low-flying insects
Humid air
Drop in atmospheric pressure
Sudden drop in temperature
Abrupt changes in wind direction
Darkening sky and clouds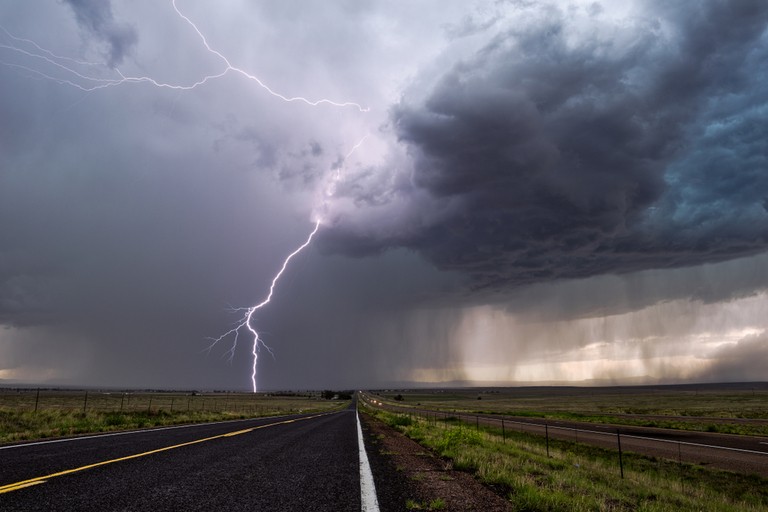 Conclusion
I hope that the article "What to do if you get caught in a thunderstorm while cycling?" helped you get more useful pieces of knowledge to save yourself in the future. That's all for the article. Thanks for reading!