If you are new or just getting yourself back into the world of exercises, starting off using heavy-duty strongman fitness equipment can bring a lot of inconveniences and discouragements.
The best way to make a good progress is to start small and equip yourself with some friendly exercise tools and weights which medicine balls provide.
The following 7 easy medicine ball workouts for beginners will help burn off those fats and build muscular strength while improving your health and level of fitness.
Chest Pass
This great med ball exercise will work the entire parts of your body including your core. It allows you to move your body quickly, increasing your heart and breathing rate. Chest pass and shuffle can be done with or without a partner.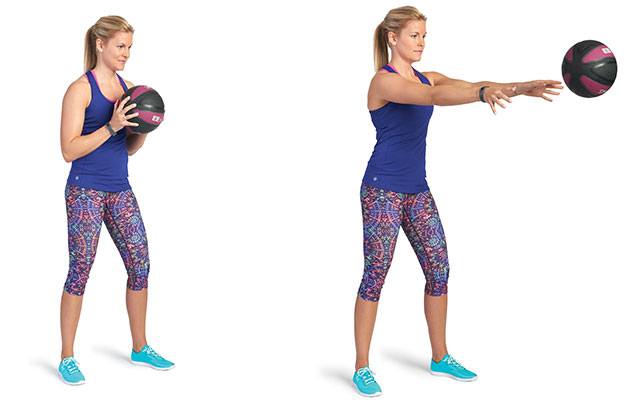 Source: experiencelife.com
How to do:
Hold the ball in an athletic stance with both hands while facing the wall or your partner if you have one.
If you are training alone, be sure to stay at a distance far enough to stretch your arms and pass the ball and closer enough to catch it as it bounces back to you without hitting the ground.
With your knees slightly flexed, pass the ball to your partner or to the wall at chest level.
Catch the ball on its return with a strong core and legs and bring it back into your chest while maintaining your balance.
Repeat this exercise as much as you wish (at least 15 reps).
Squat and Throw
This full body move creates the avenue for you to work your body and touch up those calories.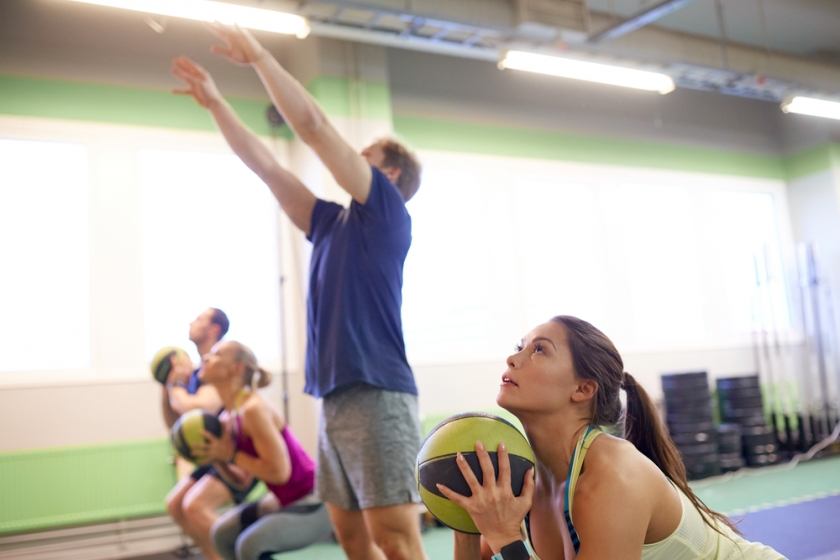 How to do:
Hold the medicine ball in both hands close to your chest with your feet shoulder-width apart.
Squat down while holding the ball at your chest.
Throw up the ball as high as you can while exploding out of the squat.
Add more weight to challenge the throw if the ball is too light or can be easily thrown up high. Make sure you stretch your body and arms up towards the ball as you throw.
Catch the ball as it returns to you or after it hits the ground then repeat the process for a few reps.
Slams
This is an awesome move that will strengthen your arm, core, and backside. To perform the slam moves, a slam ball (or a non-bounceable med ball) should be selected. You are also expected not to simply drop the ball but to follow through and slam it.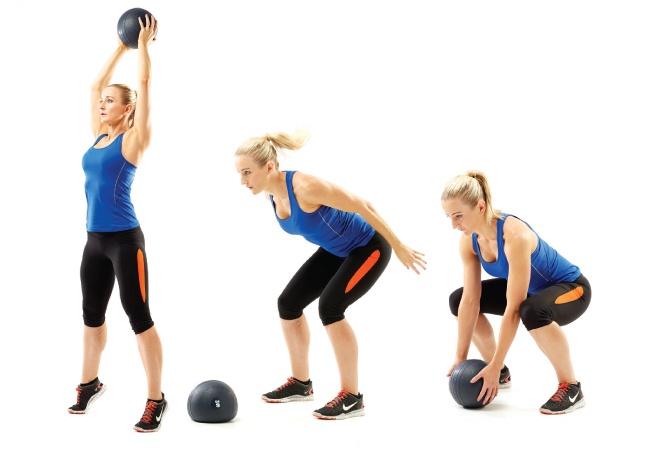 Source: womenshealthandfitness.com.au
How to do:
Get into a nice standing position with your feet shoulder-width apart.
Hold the ball in your hands and lift it over your head.
Bend over and slam the ball forward on the ground while following through with the slam.
Squat to retrieve the ball then repeat the exercise and be careful not to slam too hard.
Medicine Ball V-Ups
This medicine ball exercise is very good for your upper and side abs. It will effectively touch up your calories and give your body the definition you have been hoping for.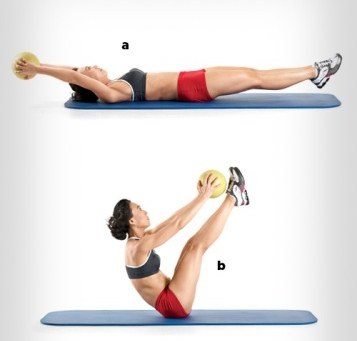 Source: stylesatlife.com
How to do:
Lie on your back with your face upward. Extend your legs and stretch your arms over your head while holding the medicine ball.
Engage your core as you raise your legs and trunk at the same time to form a seated "V" position, bringing your legs and the medicine ball straight above your head.
Hold for a few seconds then return to the start position.
Wipe the sweat off your forehead and repeat the exercises 20 times or until you are satisfied.
Rolling Push Up
This move will increase the intensity of your regular push-up challenge.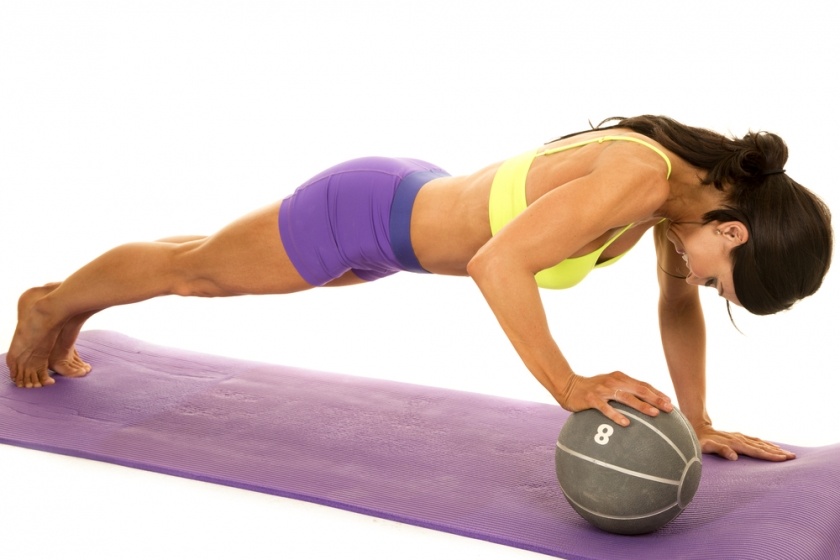 How to do:
To do the med ball push-up moves, get into a push-up position; place your right hand on the ball and the other on the floor.
Push yourself up and down while maintaining your balance on the ball.
Return to normal push-up position and roll the ball to your left hand and repeat the exercise.
Repeat for at least 15-20 times for both hands.
Russian Twists
This is twisting move on your abdomen will strengthen your core.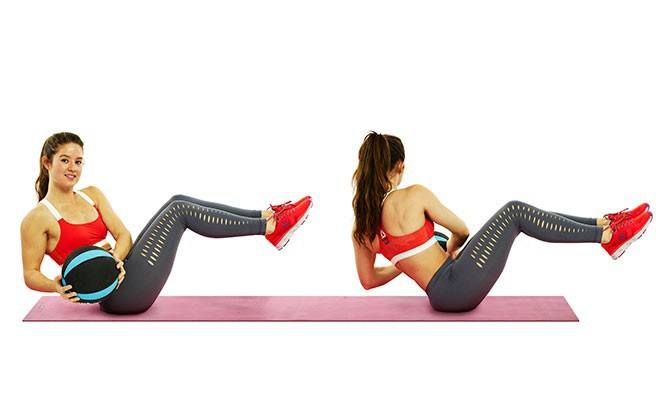 Source: sulsworld.com
How to do:
Sit on the floor in a sit-up position (your knees at 90ᵒ to your hip). Grab the medicine ball with both hands stretching your arms out in front of you.
Twist your torso explosively to one side and then twist back to the other as much as you can while keeping your back straight.
Repeat for about 15 times.
Wall Sits
This medicine ball workout for beginners is ideal for your core and lower body.
How to do:
Stand close to the wall and hold the medicine ball in front of your chest with both hands.
Lower your body into a squat while keeping your back straight against the wall with your arms straight.
Hold this squat position for 30 – 60 seconds. Return to neutral and repeat.