As a busy person, you don't have lot of time to spend at gym? You'd rather come home and do some workouts at home? And if you can do exercise while watching TV, that's even better?
Then, riding a recumbent exercise bike is a good choice for you! And we already pick some best recumbent bikes for you.
Here are the best recumbent bikes for the money you can buy in 2023:
Best Overall:

Schwinn 270

Best bang for the buck:

Exerpeutic 900XL

Most Compact:

Exerpeutic 400XL
Top 3 Best Recumbent Bikes For The Money

Best Overall

#1 - Schwinn 270

High quality & Modern design
Bluetooth connectivity & Sync with mobile app
Wide range of workout intensity options

Best bang for the buck

#2 - Exerpeutic 900XL

Sturdy
Easy to use
Comfortable seat

Most Compact

#3 - Exerpeutic 400XL

Compact & Foldable
Easy to setup
Affordable price
Top 3 Best Recumbent Bikes For The Money
Overall Comparison
Below is a detailed comparison of top 3 recumbent bikes regarding comfort and design, computer features and warranty service.
Comfort & Design
The Winner in Comfort & Design: Exerpeutic 900XL Recumbent Bike
The Exerpeutic 900XL Recumbent Bike wins the comfort & design category. The adjustable seat is nice since anyone from 5'3" to 6'6" tall can fit in it comfortably.
The seat may compress a little too much if you ride the bike for an extended amount of time, but this is the most comfortable seat out of the three for short rides.
The design of Exerpeutic 900XL is very sturdy and you will feel comfortable every time you are on the bike. And the smooth torque cranking system makes it easy to have a long, enjoyable and quiet workout in the comfort of your home.
Computer Features
The Winner in Computer Features: Schwinn 270 Recumbent Bike
The Schwinn 270 is easily the best recumbent bike of these three models when it comes to the features that it has to offer.
With 25 levels of magnetic resistance, 29 pre-programmed workouts, 4 user settings, goal tracking, a USB port and SchwinnConnect Technology, this bike has just about all you would ever need in an exercise bike.
With all of the computer features that Schwinn 270 Recumbent Bike comes with, you can personalize each workout depending on your skill level and how much you want to challenge yourself. A lot of people get bored when they workout on other recumbent bikes, but there are plenty of programs and features to help keep you motivated with this bike.
Warranty & Service
The Winner in Warranty: Schwinn 270 Recumbent Bike (Again!)
The Schwinn 270 recumbent bike has a solid warranty: 10 years for frame (one of the longest of any exercise bike available on the market today), 2 years for mechanics, one year electrical, and a 90-day labor warranty.
Incredible durability combined with a long warranty means the Schwinn 270 recumbent bike is guaranteed to provide professional quality services for many years.
Verdict
The answer to the question really just depends on what you need your recumbent bike for. Some people need one to recover from injuries, while other people want it for strenuous workouts. There is a recumbent bike out there for everyone, so the choice is yours depending on which one fits your specific needs.
Other Recumbent Exercise Bikes To Consider
As mentioned, there are a wide variety of recumbent bikes available. It can be hard to narrow them down to the perfect one, but if you still need some more information, here are a few more top options for you to consider.
Schwinn 230 Recumbent Bike
This recumbent bike is the sister of the Schwinn 270 Recumbent Bike that we reviewed, but it doesn't have as many features. The Schwinn 230 Recumbent Bike is less expensive than many of the Schwinn models, but it is definitely one of the top quality recumbent bikes on the market.
Marcy ME 709 Recumbent Exercise Bike
You will find a great value with this bike since it has a lot of the features that most people want and it is at a great price. The Marcy ME 709 Recumbent Bike is not foldable, but for a bike that can't be stored, this is one of the most space-saving bikes you can find.
Sunny Health & Fitness Folding Recumbent Bike
This compact recumbent bike can fold up for easy storage, and is one of the best budget-friendly bikes you can buy. You won't find a lot of additional features on the Sunny Health & Fitness Folding Recumbent Bike, but that doesn't mean that you won't get a good workout.
How To Choose The Best Recumbent Bike?
In order to choose the right recumbent bike for your workout's need, here are several criteria to consider before making the decision. A good recumbent bike should:
Be well-designed, comfortable and durable enough so you can exercise every day
Have multiple resistance levels and workout programs so it makes riding more challenging
Feature an LCD computer display so you can track how much calories you will burn or how far you train
Have a reasonable price and receive good feedback from users
Benefits of Using Recumbent Bikes
Aside from giving you a great workout, recumbent bikes also have some other health benefits. Since they sit lower to the ground than the other types of exercise bikes, they are easier on your joints and provide less stress on your body.
The comfort level when riding a recumbent bike is also much higher since the seat is usually larger and you have a backrest for support.
Recumbent bikes are perfect for people with hip, leg or other joint problems because you won't have to put as much strain on those areas when you're pedaling.
Most of them also have different workout levels that you can tailor to your experience and your desire to be challenged.
Recumbent Bike Assembly
Some of the most popular recumbent bikes are also the easiest to assemble. Most of the time you don't have to have a lot of skills or experience with putting things together. Manufacturers try to provide you with the fewest pieces as possible, but sometimes there has to be a lot of parts to put together a sturdy bike.
Many times you will be provided with all the tools you need, but other times you may need a screwdriver or other common tools to complete the assembly. One person can generally assemble a recumbent bike by himself or herself, but it will definitely go a lot quicker with a couple of people.
You can find detailed instructions on how to assemble one of the most popular bikes. Check here for the Schwinn 270 Recumbent Bike assembly in 10 steps. Once you read this article, you can determine whether you can assemble either bike by yourself or if you will need some help.
Recumbent Bike Workouts
Everyone has their own reason for wanting a recumbent bike. Whether you have knee pain and still need exercise, or you are a busy mom that needs to stay in shape, there is a recumbent bike that can provide you with the workout that you need.
There are 3 popular workouts for recumbent bikes, they are Standard High-Intensity Interval Training, Full Body Workout and Alternating Resistance Workout. When you read and try these workouts, you will be able to easily determine if they are right for you.
Recumbent Bike Workout Tips
It's easy to just get on your recumbent bike and start pedaling to break a sweat as quickly as possible. However, that could get you injured or make you sore the next day. You still need to stretch before you get on your bike, and start slowly before you pedal fast.
Even though you think your leg muscles are the only ones being worked, you will be surprised at how your upper body works as well. As your legs get fatigued, the rest of your body has to work harder to compensate, so stretching your entire body is important.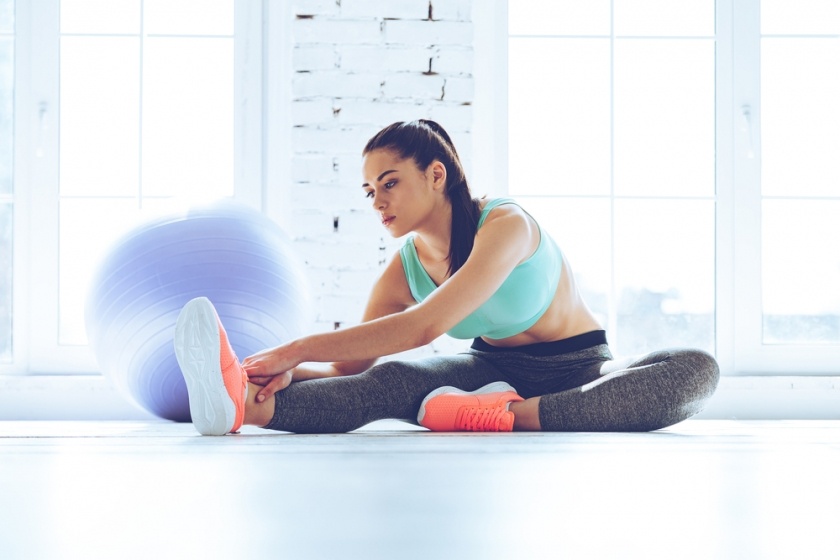 While it's easy to multitask and do other things that you like while you work out on your recumbent bike, it's also important to stay focused on your workout.
If you want to get a solid workout in, then make sure that you aren't just going through the motions while you're on the bike. Instead, adjust the tension and resistance levels if you think the workout seems a little light. The more you push yourself, the better shape you will be in and you will challenge yourself in the process.
You can also use interval speeds and resistance during your different workouts to help work out different muscles throughout your body. Try not to use the same types of exercise every time you workout on the recumbent bike. Instead, keep your body guessing at the type of workout you are going to do so you will stretch your muscles out even more!
Recumbent Exercise Bikes vs. Treadmills
The big debate that many people face is whether their lifestyle is more suited for a treadmill or a recumbent bike. Both of them can provide great workouts for people, but some may benefit more than the others.
For example, a person that has joint problems would be better suited for a recumbent bike because there isn't as much impact. Since the pedals aren't directly under your hips, the motion is much smoother and is easier on the body.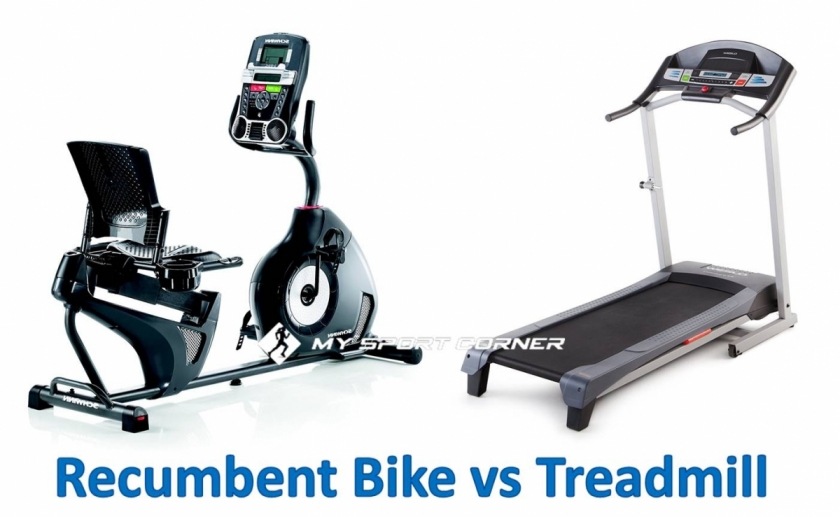 On the other hand, people who don't have joint problems and are in good physical shape may not get a good workout with recumbent bikes.
Treadmills have speeds up to 15mph and can adjust the incline to create difficult workouts. That's why many people who are looking for a difficult workout schedule will turn to treadmills instead of recumbent bikes.
The bottom line is that both pieces of equipment are designed to help you stay in shape and be healthy. Many athletes will use a treadmill for their hard workout, but then use the recumbent bike when they are cooling down to allow their muscles to slowly go back to normal and prevent cramping.
There are advantages and disadvantages to both of them, but a lot of the decision-making comes down to personal preference and whether you have any injuries that would prevent you from using one or the other.
Final Thoughts
Now you know exactly the type of information that you need to make an informed decision on your best recumbent bike purchase.
Not only will you be able to select the perfect bike for you, but you will also save some money in the process. You will know the features that you need and don't need, so you won't have to spend money on the features that you won't use. Don't waste any more time and make your recumbent bike purchase today and you will be on your way to living a healthier lifestyle!