The Sunny Health & Fitness Pro Indoor Cycling Bike is specifically designed for fitness at home; it offers all of the benefits of an outdoor cycle, with the design, ease, and convenience of an indoor workout.
Sunny Health & Fitness Pro Indoor Cycling Bike
This indoor cycling bike has the benefit of being portable, with integrated transport wheels for easy mobility; you can place your indoor cycling bike anywhere in the house, without the stress of figuring out how to move it.
Quick Look
The indoor cycling bike has a fully adjustable seat and handlebars for ease and comfort, and an adjustable inseam measuring at 41 inches max and 28.5 inches min.
The bike supports 275lbs in weight, with a heavy duty steel frame and crank, ensuring quality and robustness, allowing you to go the extra mile, regardless of your fitness aspiration.
With features such as a 40lb flywheel, a heavy-duty crank, and a seamlessly smooth chain drive mechanism, this Sunny indoor cycling bike will allow you to achieve any fitness goal you throw at it, with effortlessness, comfort, and near silence, enabling you to create a fitness space anywhere in your home, without disturbing anyone.
Pros & Cons
Pros
Gives you the feeling of cycling outdoors
A variety of different resistances with a simple twist
Adjustable handlebars and padded seat for comfort
Suitable for all fitness levels
Cons
Hard to setup due to complicated instructions
The indoor bike, if put together incorrectly, can cause noises
Height restricting means it is not suitable for those who are under 5'5
Sunny Pro Indoor Cycling Bike Review
The Pro Indoor Cycling Bike by Sunny Health & Fitness B901 offers some very special features and benefits, even when compared to other Sunny Health & Fitness cycling bike models.
Special Features
Heavy Flywheel For Better Stability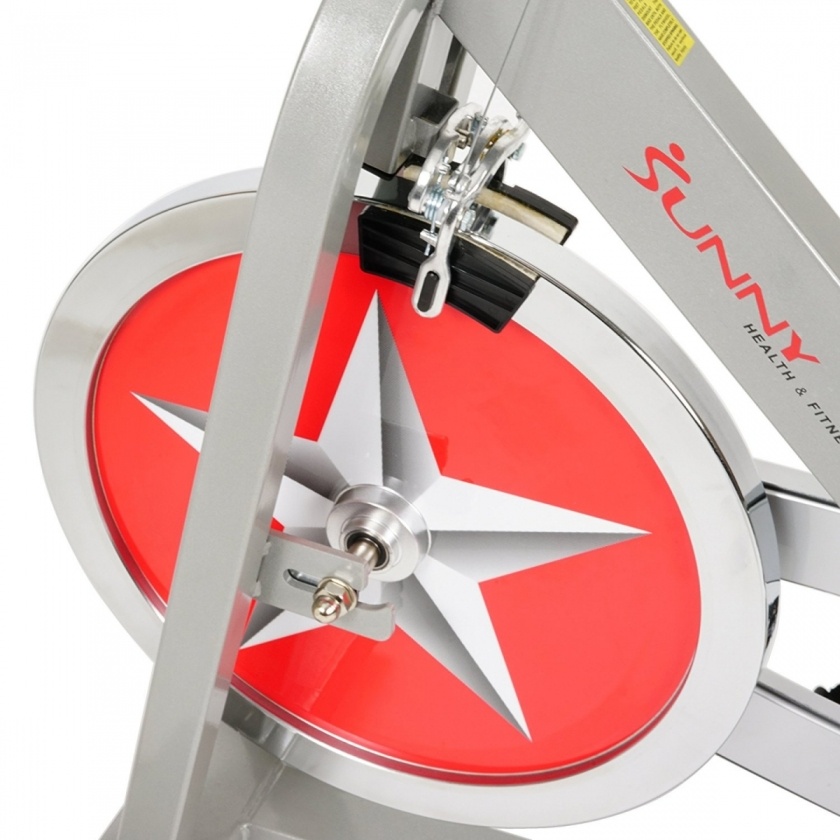 The 40lb solid chrome flywheel is purpose built to ensure stability, with felt pads enabling pressure resistance. In layman's terms, this allows the user to create more momentum, for greater distance, over a longer period of time.
You won't get the unstable and wobbly feeling you get with most indoor cycling bikes with the Sunny Health & Fitness Pro Indoor Cycling Bike.
Adjustable Resistance For Multi-level Workouts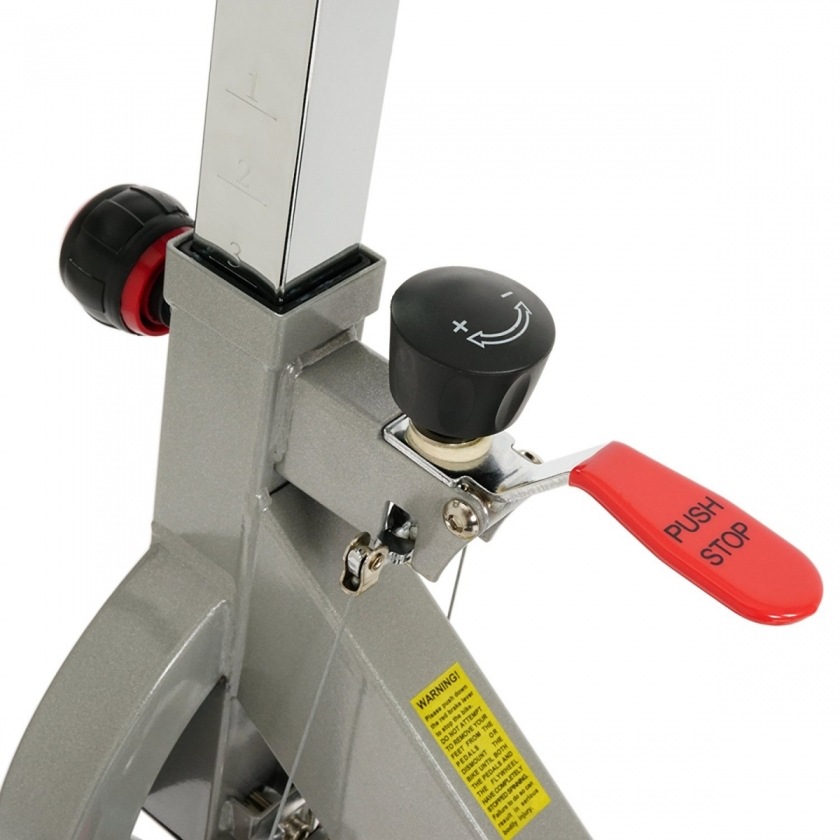 Depending on how you're feeling, or what type of workout you want to achieve, you can adjust the resistance on the indoor cycling bike with a simple twist of the tension knob; start off with a warm up and increase your resistance to an intense and challenging journey.
The adjustable resistance is a great way to measure and improve your fitness; start off small and set yourself goals to rise above.
Check price of Sunny Health & Fitness Pro Indoor Cycling Bike
More Comfortable With Adjustable Seat And Handlebars
Leather Padded Seat - There's nothing worse than an uncomfortable workout. The Sunny Pro Indoor Cycling Bike has a fully adjustable leather padded seat which you can move up/down and forward/back, giving you the choice to be within closer proximity to the handlebars, ensuring comfort, with a simple twist of a knob.
Your workout will never be disrupted due to discomfort again.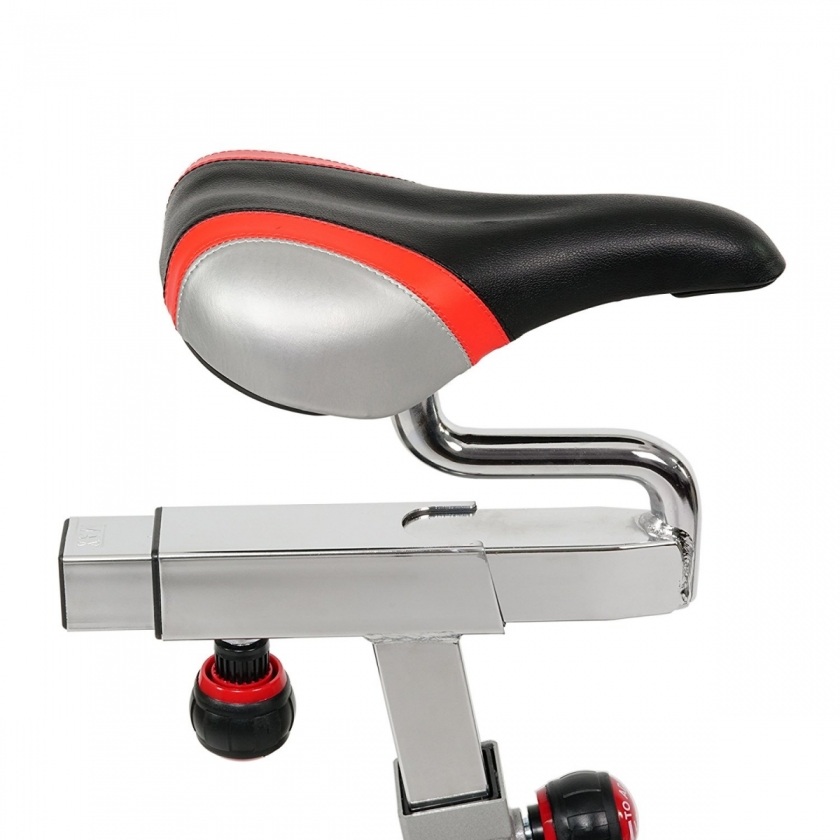 Adjustable Handlebars As well as being adjustable, these padded handlebars will ensure you don't lose grip throughout your workout. Whether you're looking for an intense racing style workout, or a comfortable ride to relieve the stress of the day, the adjustable handlebars allow you this flexibility.
Fancy reading a book whilst you exercise? Well, you can do this with the adjustable handlebars due to their design!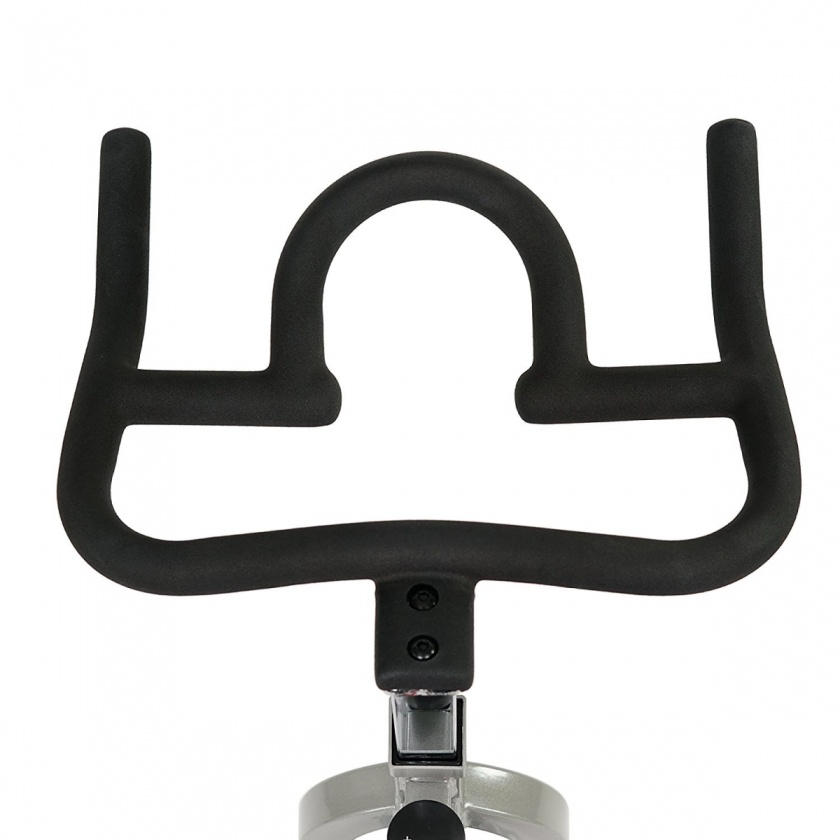 Some Drawbacks
Hard to Setup: The setup of the indoor cycling bike can be complicated; if something goes amiss with the product, it can be difficult to figure out how to resolve the issue, without being a technician. Ensure that you read the instructions carefully, step-by-step, or contact support to ensure the safety of your bikes' setup.
Clicking Noise: Some customers have reported a frustrating clicking noise near the pedals; this is often due to the setup but once again can be difficult to resolve with a simple toolset.
Height Restricting: This bike may not be suitable if you're under 5'5", users of this bike have suggested. Ensure that you check the dimensions of the bike before purchasing to secure its suitability.
Lack of Monitor: The only benefit we couldn't see at this indoor cycling bike, compared to other bikes, was the digital monitor. However, weighed up against its special features, and price, this isn't a huge demise.
Useful Tips
When setting up the bike, ensure that you check the parts against the list of parts that should be included with your product.
It is highly recommended to check that the ground you're placing your bike on is stable and flat, however, if this isn't achievable, there are base leveler stabilisers.
Make sure that you don't attempt to get off the bike until it has come to a complete stop, to ensure your safety. There is, however, a brake handle for when you need to break aggressively, and the bike will stop immediately.
Verdict
The Sunny Health & Fitness Pro Indoor Cycling Bike is a great option for all levels of fitness, making it suitable for all fitness aspiration users. The level of flexibility you have with the bike, such as, adjustable handlebars, adjustable comfort seat, flywheel, and resistance, means that you can adapt your workout depending on what you're trying to achieve.
You can exercise whilst reading a book, watching the TV, or move into a challenging headspace where you really feel like you're outdoors.
Although some users have suggested the bike can be hard to setup and maintain, with detailed assembly and maintenance instructions, and product support, you shouldn't be away from your exercise regime for too long!
Considering its benefits, special features, and extremely reasonable price; the Sunny Health & Fitness Pro Indoor Cycling Bike makes an excellent choice for all.
Check price of Sunny Health & Fitness Pro Indoor Cycling Bike