When talking about working out while on a beach vacation, I didn't mean that you will have to go to the gym or studio and spend time there. Instead, there are a lot of fun and exciting alternatives to help you exercise and enjoy the trip at a time.
Here are the 8 most creative ways to get a workout while on a beach vacation:
Take Part In Water Sports And Activities
Taking part in some of the water sports available in the place you visit is a smart move because while getting a full-body workout, you will admire nature and have fun. Here are some common and worth-a-try water sports:
Kayaking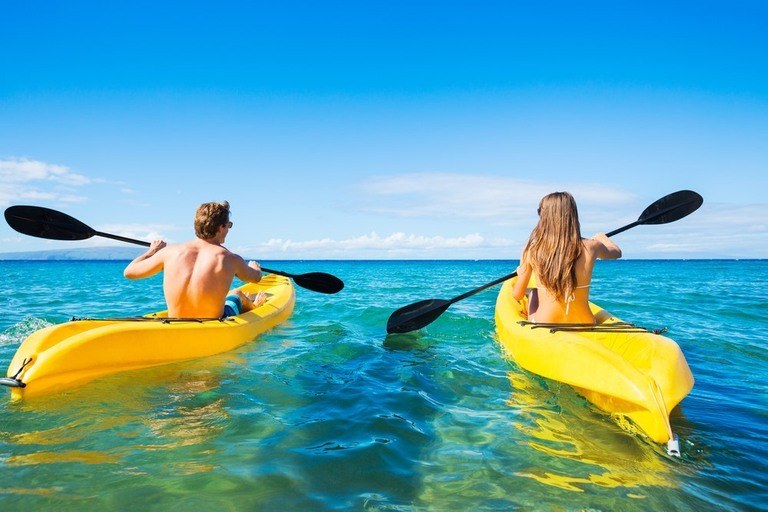 There's a lot of work to do during a kayaking trip and this water activity is available at most beaches.
Go kayaking is a great cardio exercise to train your balance, your core muscles, and upper body, including arms, chest, shoulders, and back. It also trains your leg muscles a little bit.
You can easily hire a kayak at some kayak rental stores along the beach shore or bring your own kayak (but make sure that it is able to resist saltwater).
Stand-Up Paddleboard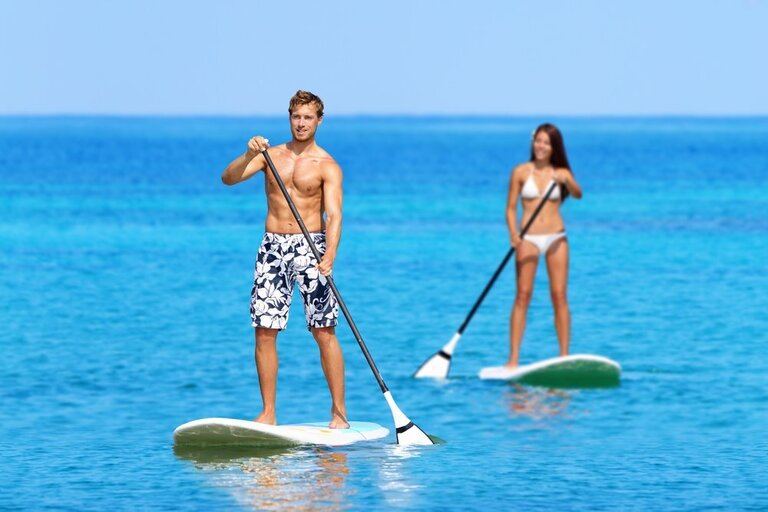 Stand-up paddleboarding isn't as easy as it seems.
It requires your body to keep balance when you're standing on the board. You will notice that both of your brain and muscles will work really hard after an hour of stand-up paddleboard.
This water sport also helps you build up muscle strength, especially core muscles, glutes, and legs. Your isometric strength will also be increased.
Rent a board, paddle out, and enjoy the workout.
Swimming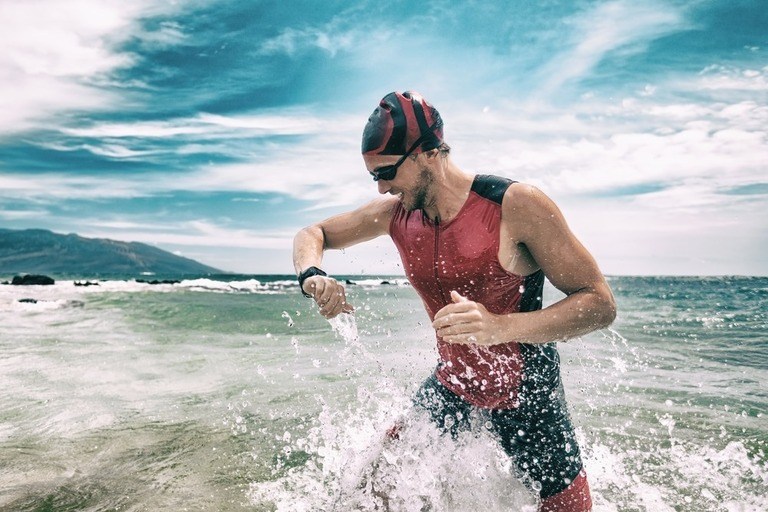 Swimming is the simplest and easiest-to-perform exercise while you're on a beach vacation.
All you need is appropriate swimming apparel and finding a safe beach area to swim.
This water sport effectively tones up your muscles, builds strength, retains healthy lungs, heart, and weight.
Besides, while swimming, your heart rate is up and your body also takes some of the impact stress off.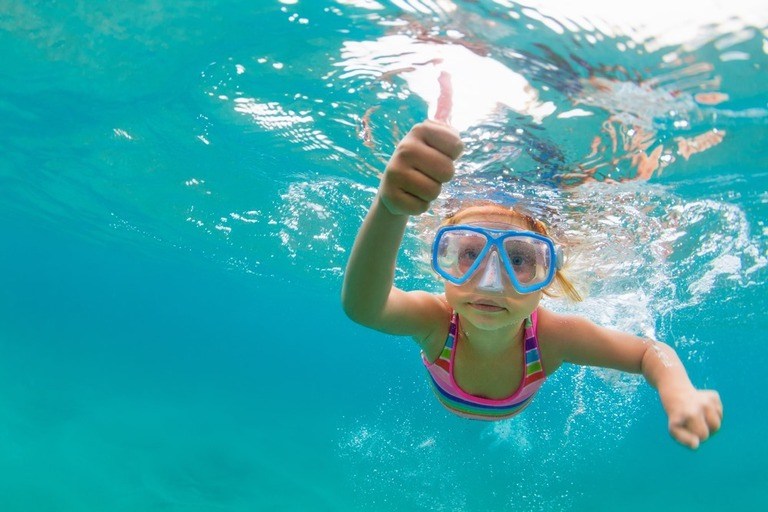 Swimming in the ocean is different from that in a swimming pool. You'll have to face the ocean waves and currents, which even makes your endurance and muscles group.
Water Aerobics
Nobody says that water aerobics is the senior thing.
Some exercises can make you feel extremely tired, such as the bottom part of a jumping jack, crunches, skaters, lateral lunges, and squats in the ocean.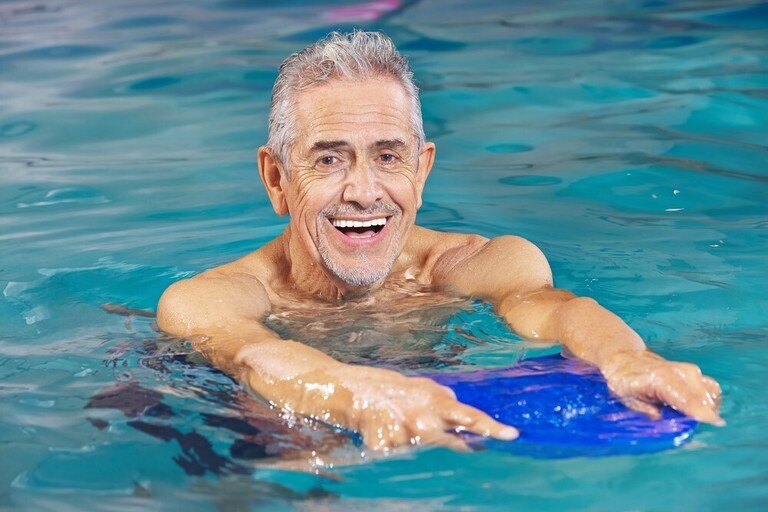 You should choose a beach area where the water is at your waist level so that when performing water aerobics, you'll receive extra resistance from the water.
Play Beach Volleyball
If you go on a beach vacation as a group of friends, this is a perfect chance to play beach volleyball together.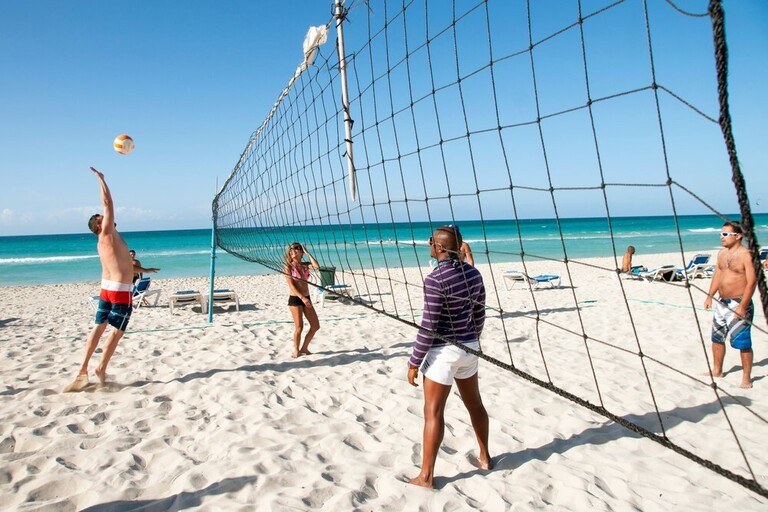 Aside from creating fun memories together and building up teamwork, this outdoor activity improves your balance, reflexes, hand-eye coordination, and the entire body muscles – such as lower legs, abdominals, thighs, shoulders, arms, and upper body.
Plus, it counts as metabolic training as well as strengthens your neuromuscular response.
Play Paddleball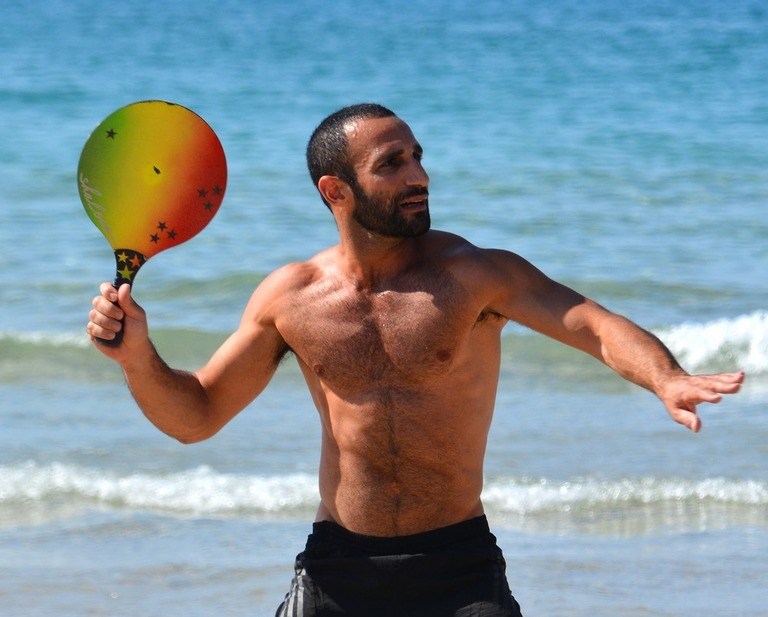 A gentler way to make you sweat while on a beach vacation is playing paddleball. This activity is also friendly for kids and perfect as a family game play.
Parents will throw a football in the water with their kids and they will jump for it and end up diving for the ball. It's fun and refreshing! Aside from paddleball, Frisbee and football are some other great alternatives.
Beach Yoga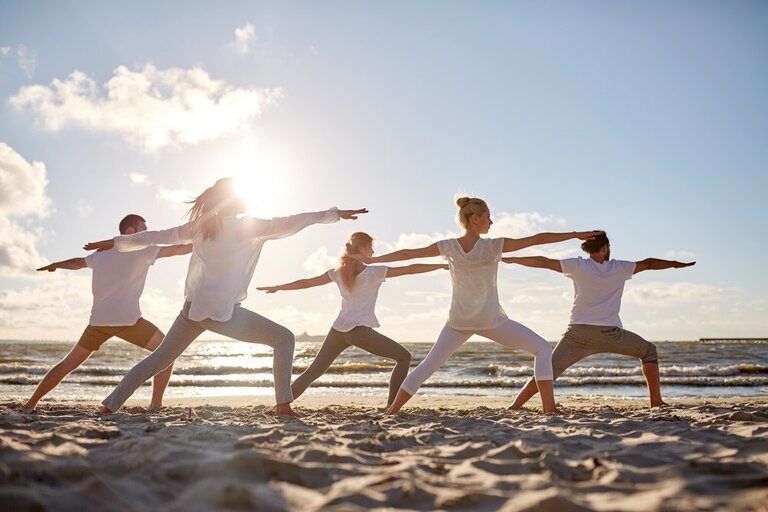 Skip the studio and try doing some yoga poses on the sand beach.
Wear appropriate clothes and don't forget to carry a yoga mat or a thick towel so that when performing those poses that require using knees and elbows, these two parts won't hurt.
The biggest advantage of practicing yoga on the sand beach is when you fall, it won't be as painful as that from a wall or a hard floor.
Some common yoga poses are:
Headstands
Corpse Pose
Easy Pose
Pigeon Pose
Shoulder Stand
Tree Pose
Downward Facing Dog
Do Mobility Work On A Towel
If you're looking for lower-intensity workout that also helps loosen your muscles and open your joints, try doing some mobility work on a towel:
Lumbar To Cervical Spine
Practice cat-cow movements slowly and intentionally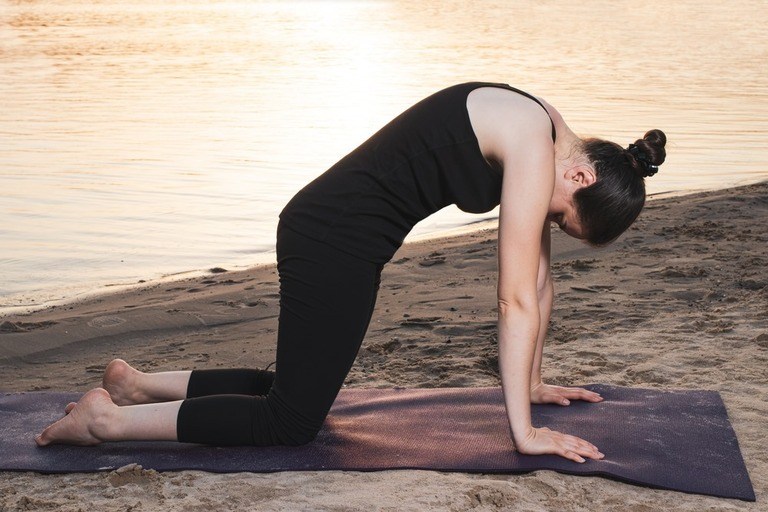 Shoulders
Lie on your side while keeping the top knee 90-degree bent in line with your hip and the bottom leg straight. Flip your top hand to palm up.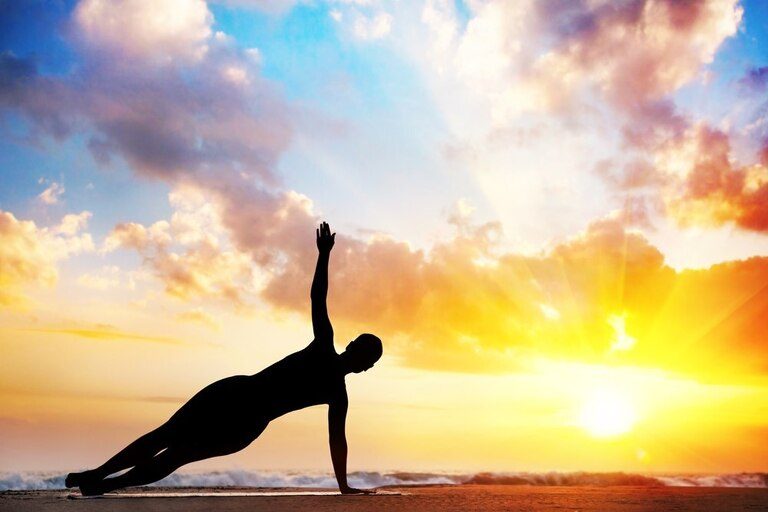 Breathe out and keep the top arm straight while dragging fingertips above the head and behind you, as if you are drawing a rainbow. Slowly and intentionally practice this position until your top knee starts lifting above the floor.
Back to the starting position. Breath in. Repeat 3 reps on each side.
Thoracic Spine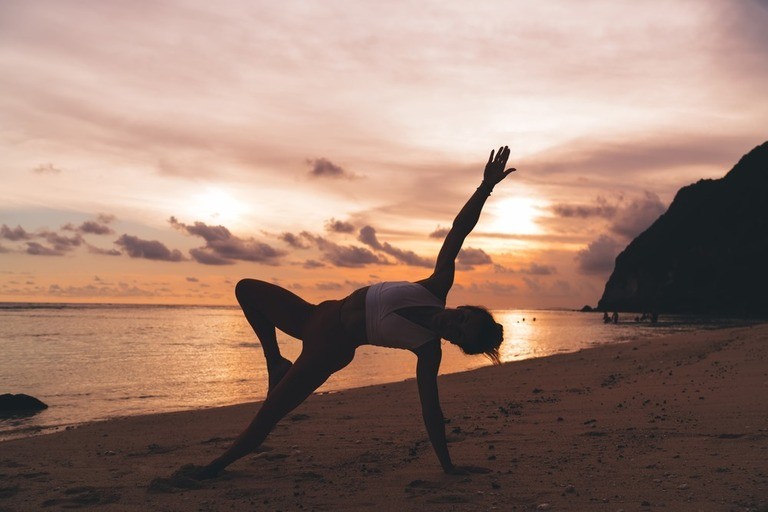 Lie on your side while keeping the top knee 90-degree bent in line with your hip and the bottom leg straight. Lift and reach your arms in front of you and put palms together.
Breathe out while sliding the top hand past your bottom, then open the upper back.
Back to the starting position and breathe in. Do three reps on each side.
Hips
Stand on your feet shoulder-width apart. Drop into a low squat and try to keep your bums as close to the floor as possible.
Palm touching in front of chest while your elbows are placed inside your thighs. Gently push them open and start drawing figure eights with your knees. Concentrate on opening the hips.
Ankles
Lunge your left foot forward while putting your back knee on the floor. Put your hands on both sides of your front foot, then lean into the front ankle.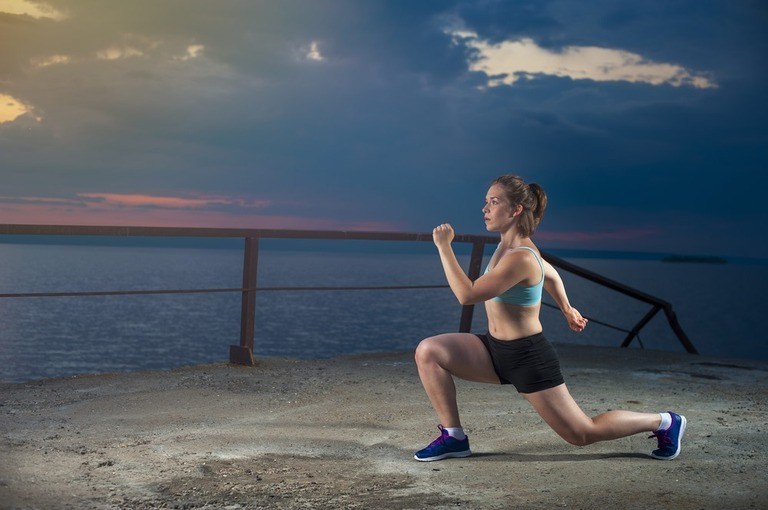 Back to the starting position. Do three reps on each side.
Conclusion
Taking a week off might not decrease your muscle strength noticeably but can make it more difficult to return to the previous training level.
Therefore, finding creative ways to get a workout while on a beach vacation is recommended to retain your fitness levels and to have fun. Hope that this article helped you to get the right exercise plan. Thanks for reading!